Eight-colour press for 4-over-4 perfecting with additional inline coating
Inline quality control even includes grey balance measurements
Elegant print products for customers with particular expectations of quality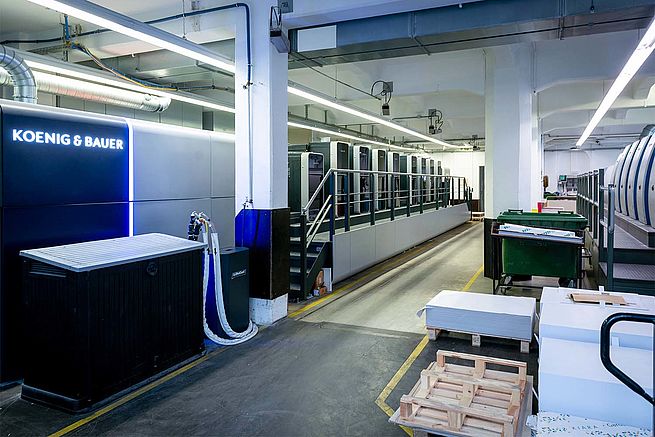 Back in the day, there was a rumour that the printers in the workshops at the Druckerei zu Altenburg (DZA) used silver type for printing. This pays testimony to the quality awareness of the company, which can trace its roots back to 1594 and to this day still operates from premises built in 1870. Metal type – whether silver or lead – is, of course, a thing of the past. What has remained, however, are the quality standards. They are a hallmark of the company which it continues to fine-tune at every opportunity.
And a sterling reputation like this spreads quickly. Art museums, architectural design studios, photographers, publishers and agencies all entrust their work to DZA, especially when it comes to printing catalogues. Many of these jobs are uniquely demanding when it comes to quality, design features and page count. This makes it hardly surprising that, alongside the German customers, there are many companies in Switzerland, as well as a few in Great Britain and the USA, which turn to DZA for their printing needs. Not only that, most of them also come to Altenburg, a more than 1000-year-old former ducal residence in the federal state of Thuringia, to follow the start of their production runs in person.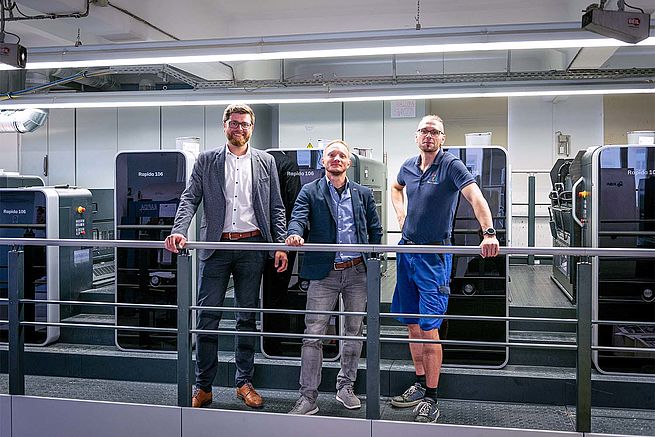 Quality control all the way down to the last detail
They are able to witness the very latest press technology in action. For a few weeks now, the company has been printing on a brand new Rapida 106 X. With eight printing units, a perfecting unit for 4-over-4 production and an additional inline coater, the medium-format press (max. sheet format 740 × 1,060 mm) is the company's most extensive sheetfed offset installation to date.
And one which is certainly special, not least because it promises the specialists at DZA significant improvements with regard to quality measurement and control. QualiTronic ColorControl ensures consistent print quality. The system also utilises InstrumentFlight for grey balance control and QualiTronic PDFCheck for a comparison of each printed product with the pre-press PDF.
Special sensors even detect coloured and black substrates both at the infeed and when the sheets are turned in the middle of the press. Jobs requiring substrates like this are rare. Nonetheless, they are requested several times each year, and the press needs to be prepared to handle them when they are.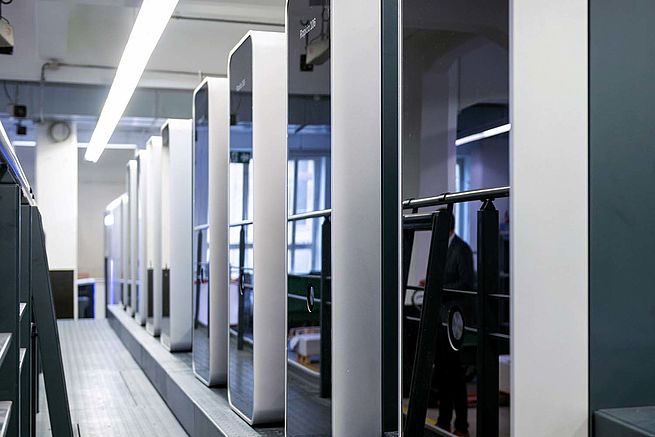 Automation for fast job changeovers
Given the concentration on mainly short to medium run lengths, the DZA specialists placed particular importance on makeready-saving automation solutions when configuring the new press. This begins with simultaneous plate changing (DriveTronic SPC) and applies equally to the washing systems (CleanTronic Synchro). Parallel processes are standard here. After all, "when there are ultra-short runs of just 250 to 500 copies, the printers have their work cut out to keep pace," says managing director Peer-Philipp Keller. It is for this same reason that the Rapida106 X seldom runs at full speed.
In combination with extensive inline finishing options, being able to run 4/4 production in a single press pass is a big step forward for DZA. "We have been able to optimise our production processes significantly," Keller reports. "And this at the same time as improved quality, new possibilities for product refinement and additional strategic options." If necessary, the press can also use up to eight colours for printing and coating in a straight process. Multiple coatings are similarly possible using the coater and inking units. In addition to protective coatings, DZA can therefore offer a wide range of decorative finishing effects: All-over or spot gloss, silk matt, matt – whatever the customer would like.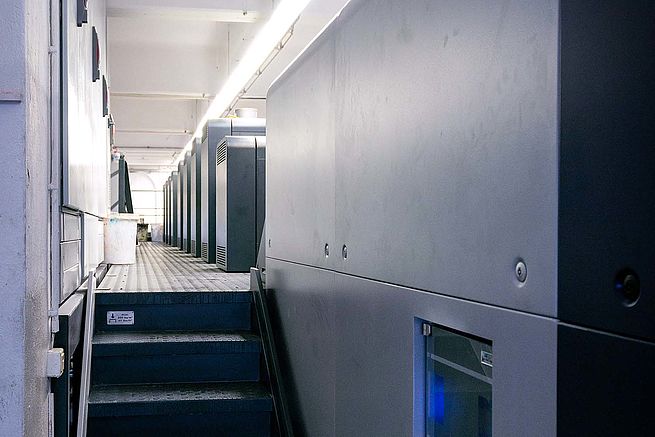 "Every product is unique"
Many jobs are printed with FM screening. Optimisations in pre-press and the use of highly pigmented inks enable printing with an extended colour gamut. And spot colours are also used where necessary to achieve specific colour tones and effects.
Versatility is one of the most important hallmarks of the print company. "Every product is unique!" – as is the firm conviction of Peer-Philipp Keller and his 75 employees. And that is also how every print job is treated. Experimenting and testing to realise the creative new ideas that product designers have come up with are daily routine for the production department in Altenburg. This applies not only to their printing services, but also to product finishing and bookbinding.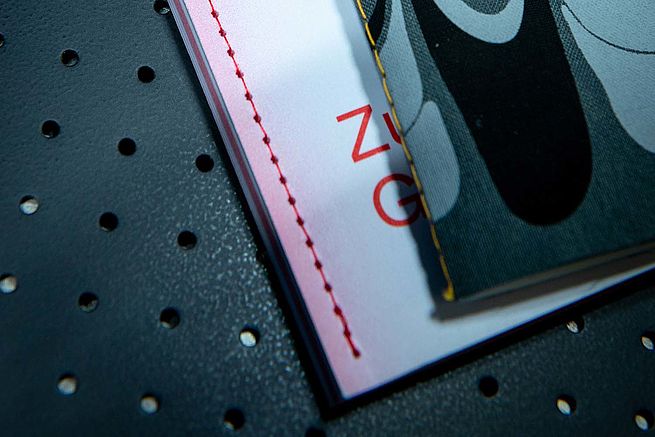 A string of prizes – most recently at the Druck & Medien Awards 2021 – bears witness to the extraordinary print products made by DZA. A book about artist Meret Oppenheim, for example, received a coveted 'Golden Letter', the highest award presented annually by the Stiftung Buchkunst. And this award, in turn, closes the circle back to the proverbial silver type that is said to have been used in the company's workshops in the past.
Interesting website: www.dza-druck.de