Double spearhead of coding specialists complete once more
Steady growth and dynamic developments in the branch
Focus on operations, product development and IT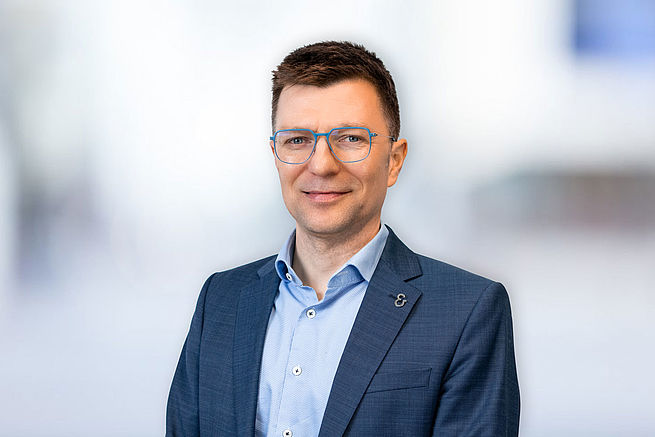 Dr Stefan Balling has been appointed new joint managing director of Koenig & Bauer Coding with effect from the beginning of the year, and together with German Stuis now forms the leadership duo at the helm of the company. In this role, he is following in the footsteps of Oliver Volland, who passed away unexpectedly in April 2022.
As an electrical engineering expert, Dr Balling has held various managerial positions in the field of industrial coding since 2011 and possesses a wealth of experience in the industry. He joined Koenig & Bauer Coding in April 2016 and soon took on VP responsibilities within product development. This remit was later expanded to include assembly operations. Over the last few years, Dr Balling has been a driver of continuous optimisation in production processes and has demonstrated particular agility in employee leadership and development. Together with Oliver Volland, he advanced numerous key technological developments.
Two professionals – one team
"With the appointment of Dr Balling as joint managing director of Koenig & Bauer Coding, we have secured the services of an experienced and dependable colleague with a deep understanding of our corporate structures," says German Stuis. "Steady growth and dynamic development have also broadened the scope of management tasks. With his specific background, Dr Balling will prove to be an enormous asset for the management team." Areas that form the focus of his new responsibilities include operations, product development and IT.
Successor to the late Oliver Volland
The appointment of Dr Stefan Balling helps to fill the gap left at Koenig & Bauer Coding by the unexpected death of Oliver Volland in April 2022. With his motivational spirit and innovative ideas, Oliver Volland shaped the sustained further development and modernisation of Koenig & Bauer Coding for over 14 years – initially as head of sales, later as managing director. It was under his auspices that the company established its meanwhile well-established guiding principle, 'Coding stands for trust'.
Further information can be found at coding.koenig-bauer.com