At METPACK 2017, KBA-MetalPrint was once more able to set new standards for the branch with a series of game-changing innovations. With new developments for the 2-piece market, a digital press specifically for metal decorating and a raft of further developments for printing and coating applications, the company delivered impressive proof of its great innovative strength and treated visitors to a show of future-oriented technology.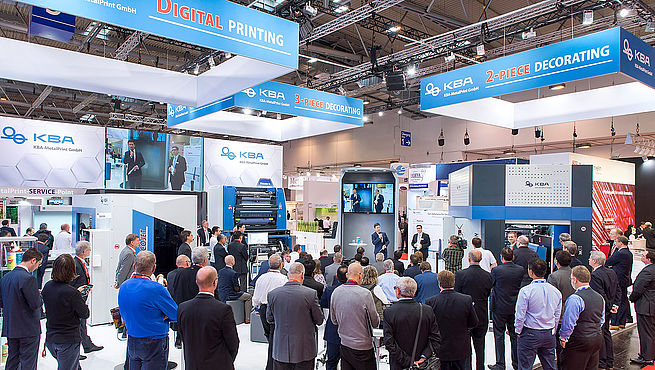 METPACK 2017 was a complete success for KBA-MetalPrint
KBA-MetalPrint received what is probably the best-looking confirmation of its innovative strength in the form of a silver METPACK Innovation Award for the development of the CS MetalCan, a new generation of printing units for beverage cans based on the short-training inking technology.
Visitor interest surpassed all expectations, and the daily live presentations were always well-attended. In conversation with exhibition presenter Sascha Hingst, managing director Ralf Gumbel, sales manager Nelson Schneider and sales engineer Gerhard Grossmann presented an impressive line-up of new products to their attentive audiences.
Under the banner "Creating your future", this was KBA-MetalPrint's first appearance as a solution provider for all fields of metal decorating, i.e. for the 2- and 3-piece markets, as well as for digital printing on flat sheets and containers.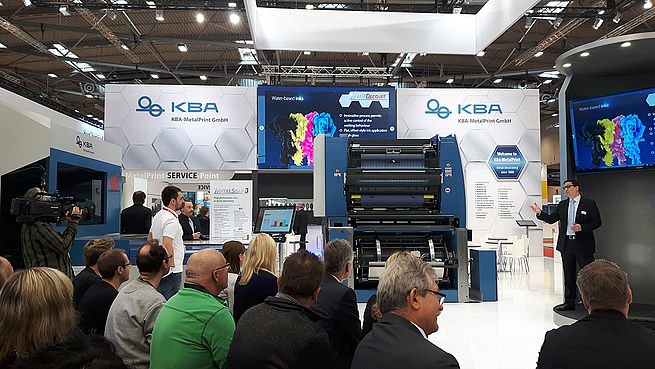 The team on the new digital MetalDecojet press was able to present some impressive print results
KBA-MetalPrint unveiled four key innovations at METPACK:
CS MetalCan – solutions for the decorating of 2-piece beverage cans
The CS MetalCan redefines the benchmarks for beverage can decorating. It stands for the revolutionary development of a new generation of printing units for beverage can production, as a further addition to the broad portfolio of printing technology solutions for metal decorating from KBA-MetalPrint. Equipped with 10 inking units and a multitude of special modules such as automatic plate and blanket changers, the CS MetalCan offers a high degree of automation and boosts productivity through significantly faster makeready. Both plate and blanket changing were demonstrated during the exhibition. Customer interest was correspondingly high, and the inspiring accolade of a silver METPACK Innovation Award more than deserved.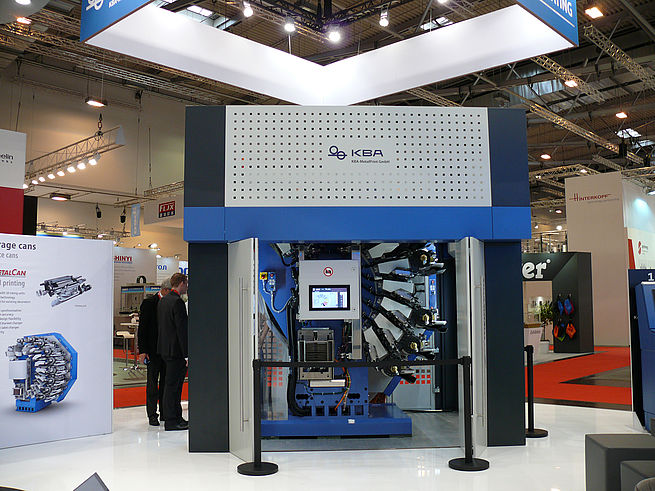 CS MetalCan - Next level technology for beverage can decorating using keyless inking technology
MetalDecojet – the first industrial inkjet system specifically for metal decorating
The team on the new digital MetalDecojet press was also able to present some impressive print results. Various designs were printed during the live demonstrations, and visitors were invited to assess the quality for themselves on the inspection desk. Printing without plates and ink changes opens up a whole range of new perspectives: Short runs, personalisation, event marketing, etc.
But digital metal decorating is not only a process for flat sheets. The new MetalCanjet also extends the capabilities to containers. Here, too, visitors were able to verify the quality of the decorated products at first hand.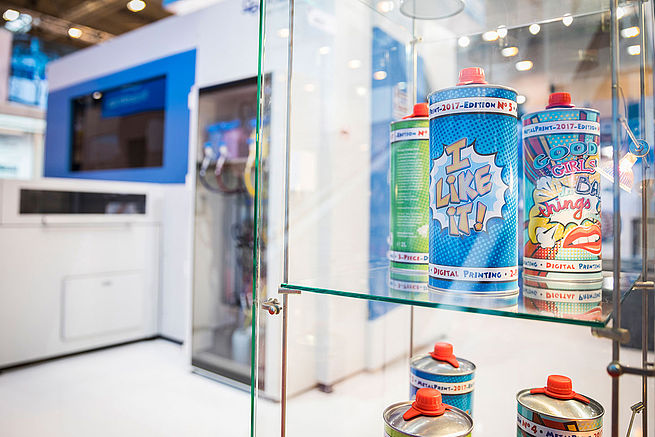 KBA-MetalPrint offers digital printing for both flat sheets and containers
New features for the MetalStar 3
KBA-MetalPrint is similarly a motor of developments in 3-piece decorating. Further features to maximise performance and automation translate into significant gains in production time. The sidelay-free infeed DriveTronic SIS eliminates a conventional vacuum side lay and offers ultimate alignment accuracy. The new tool-less and program-controlled blanket changing system RBC (Rapid Blanket Change) requires only 2 minutes per printing unit and thus slashes blanket changing times by nearly 75%. Interested users were able to see this for themselves during a subsequent symposium at the production facility of customer Pirlo in Kufstein/Austria, where a six-colour MetalStar 3 UV could be seen in action with the new features.
MetalCoat 483 – practice-oriented coating solutions
The new MetalCoat 483 is the answer to the growing diversity of compositions of modern coatings. BPA-free coatings, in particular, behave differently during application. The new MetalCoat 483 is designed with a 3-roller system and thus combines the high level of automation of the 480 series with the flexibility of a 3-roller coating unit.
The extremely popular service lounge on the KBA-MetalPrint stand offered visitors insights into a strong support programme: Line optimisation, for example, is a means to modernise existing installations for significant improvements in productivity. New upgrades prepare older systems to face the challenges of competition, and KBA-MetalPrint supplies high-quality original spare parts. One new service segment is KBA-MetalPrint Consumables: A broad spectrum of consumables and printing aids, such as lubricants, cleaners, blankets and recommended inks, all of which are specifically matched to the company's presses and guarantee maximum performance.
METPACK was at the same time taken as a fitting occasion to announce the signing of a partnership agreement between KBA-MetalPrint and Sun Chemical. The two companies will in future be cooperating in the field of printing inks for the 3-piece can market. Sun Chemical will also be supplying inks for the starter kits of all new MetalStar 3 and Mailänder presses.
The summary was positive in every way: METPACK 2017 was a resounding success for KBA-MetalPrint. That is summed up aptly in a statement from managing director Ralf Gumbel: "Our products were the talk of the exhibition, and we have set new standards."
The overwhelming visitor interest, promising discussions and a long list of new contacts suggest that post-exhibition business will be equally strong. It was especially pleasing that the first MetalDecojet digital press was already sold to user Litalsa from Spain during the exhibition itself.