Discussion platform for future trends
CS MetalCan with new groundbreaking technology
Digital printing as a flexible alternative for short runs
In May this year Koenig & Bauer MetalPrint presented itself as a partner for metal decorating at the Future Symposium of thyssenkrupp Rasselstein in Andernach. The event, which takes place every 3 years, sees itself as a discussion platform for new trends in the steel packaging industry. This is where innovations are presented and experts emerge.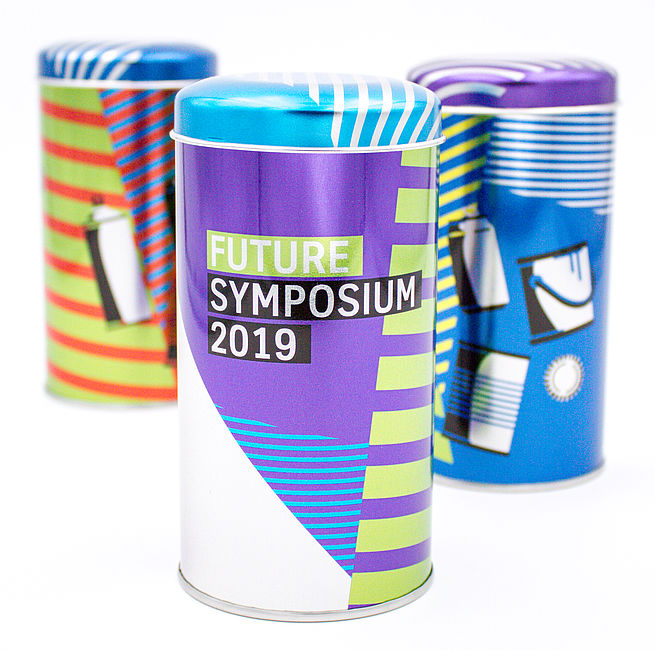 In addition to MetalStar 3, which with its many automation features sets standards for top performance and short make-ready times, Koenig & Bauer MetalPrint is now launching the new CS Metal-Can, a highly efficient machine for the decoration of two-piece beverage cans. Thanks to a new groundbreaking and extremely economical keyless inking unit technology with direct drive, this "decorator" is stable in the target color within a very short time and therefore consumes considerably less waste than previous competitor products.
Shortest runs, printing without printing plates, personalisation - digital printing is the trend of the future! With the MetalDecoJET, Koenig & Bauer MetalPrint has developed the first digital printing press specifically for the metal packaging industry. With this new technology, an absolutely uniform ink application and outstanding print quality can be achieved. The water-based inks are food safe, a very important argument for the food industry.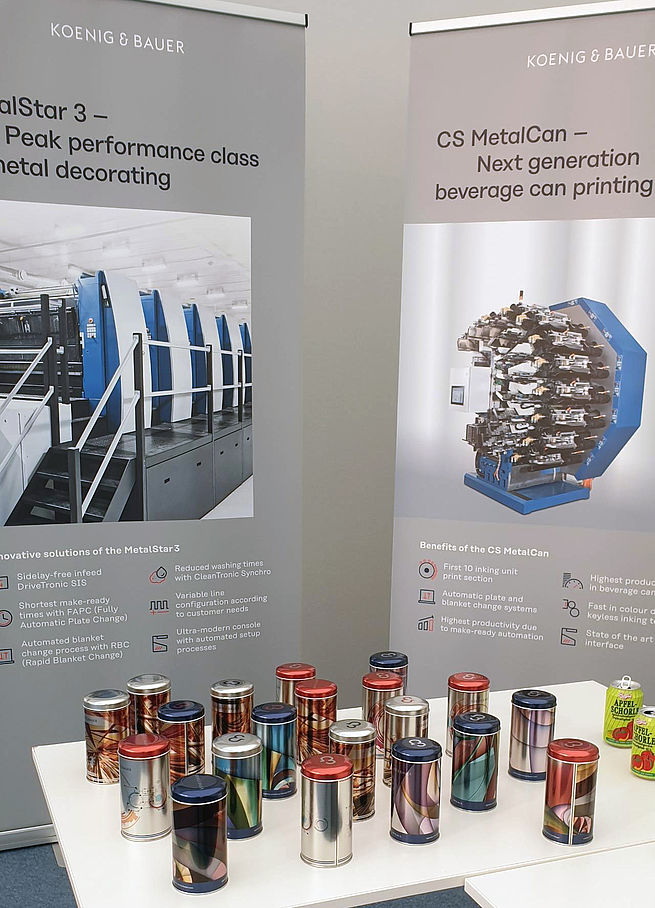 There is still a certain reluctance to use digital printing on the metal packaging market. To convince the Future Symposium guests of the outstanding properties of digital printing, thyssenkrupp Rasselstein together with Koenig & Bauer MetalPrint and Pirlo came up with something special. Each visitor received a can digitally printed on the MetalDecoJET and processed by Pirlo as a gift. The visitor feedback on the digitally printed cans was positive throughout. The print quality was so convincing that many of the visitors confused digital printing with offset printing.
At the Koenig & Bauer MetalPrint stand, interested visitors were able to see for themselves the outstanding print quality of the MetalDecoJET. There was a selection of cans with various design motifs filled with sweets. If you are interested in digital printing, we would be happy to send you a sample can.